Medical Campaigns
---
Often times, One Love takes in animals with severe health issues who require costly treatment. Our rehabilitation program focuses on restoring these animals to full health when possible and on providing the animal with the best possible long term quality of life. The success of this program relies 100% on the generosity of our donors. Remember that all donations are tax deductible and any donations made on this page go directly to the selected animal's treatment. Below are some details on each of our current medical cases.
Help 4-Month-Old Annie Overcome her Seizures
---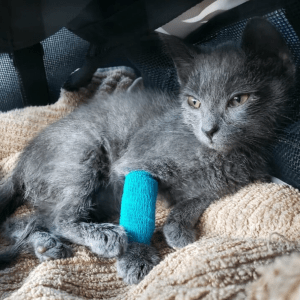 Annie was an orphaned baby kitten found roaming the streets alone and was turned into One Love by a Good Samaritan. She was bottle fed by our volunteers and was growing to be the most adorable little kitten with the most endearing personality. She was affectionate, adventurous and brave and you just couldn't have asked for a more perfect kitten. Then one day, when Annie was only a little over 3 months old, she began having a series of severe seizures.
The neurologist treating Annie said that he had never seen seizures in a kitten so small and treating her was somewhat uncharted territory. After multiple vet trips, many days of hospitalization and lots of tests and sleepless nights for us, Annie has been diagnosed with feline epilepsy. While it will likely affect her for the rest of her life, with the proper medication and environment, Annie should be able to live a full and happy life. She currently requires medication 4 times per day and constant supervision as she has lost some of her vision as a result of her seizures. While she is not yet out of the woods and is being checked monthly for her progression, she is beginning to improve and her seizures are becoming less frequent and her personality is slowly starting to return.
Please make a donation today to Annie's medical fund which will directly support Annie's ongoing medical care and treatment for her seizure disorder.
Goal - $5,000
Help Brianne Recover from Bladder Stone Removal
---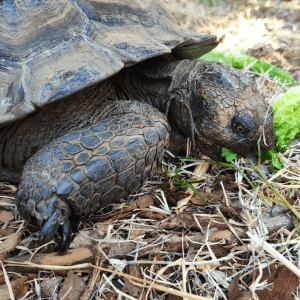 Brianne is a desert tortoise who was surrendered to One Love by an owner who could no longer keep her. We noticed within the first few weeks after Brianne's arrival that she was not eating or excreting the way she should be. We also noticed what appeared to be a mass on one of her legs.
Upon examination by the vet, it was found that she had a bladder stone the size of a softball that was causing some major issues and needed to be removed urgently. Brianne underwent relatively invasive surgery which required cutting a large hole into her plastron to reach in and break up and remove the stone. Once the stone was out, the cut out portion of the shell was replaced and sealed back on with a combination of fiberglass and epoxy. Brianne's vet said that this stone was the largest she had ever seen and was surprised that she had been living with it. Brianne is currently in recovery and the picture above is her eating for the first time after her surgery.
Please make a donation today to Brianne's medical fund which will help pay for the extensive costs of the bladder stone removal surgery and her ongoing recovery.
Goal - $1,500